High Performance Fully Encapsulated DC/DC Converter Modules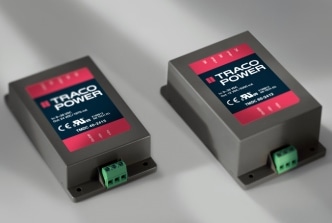 High Performance Fully Encapsulated DC/DC Converter Modules
The TMDC series is a range of fully encapsulated low profile DC/DC-converter modules just made available by Powersolve. The modules feature ultra-wide input voltage ranges of 9 to 36VDC and 18 to 75VDC and are available with fixed 5.1, 12, 24 and 48 VDC output voltages in 20, 40 or 60W ranges.
As standard, the modules are designed for chassis mounting with a screw terminal block although an optional bracket allows for DIN-rail mounting. With a very high efficiency of up to 91% and the use of high grade components, the converter modules feature an operating temperature range of -40°C up to 90°C.
They do not need a minimum load and offer a high efficiency also at low load conditions. The modules feature a remote control input while a green LED indicates the presence of the output voltage. EMC characteristics and safety certifications permit the use of these modules in industrial and consumer applications.
You can share this story by using your social accounts: